WARNING TO HM TREASURY
You Have A Disability Death Liability
Minimum £20 Billion Tending Towards £200 Billion
For The Record – Text On This Request Was Made In 2011
Here is a heads-up for the 2010-2016 former Secretary of State for Work & Pensions Iain Duncan Smith, along with the Chancellor of the Exchequer George Gideon Osborne*.
In a few years, the UK Treasury is, in all probability, likely to be hit with a £20,000,000,000 to £200,000,000,000 contingent liability bill to clean up the disastrous mess of the current Welfare Reform Death Scandal.
Not just the tragedies listed on this website, nor the thousands of disabled people hastened to their death by the lethal government welfare reforms. Neither the hundreds of  thousands of patients and demonised disabled unable to find a job that you are churning through a defective and unsafe Work Capability Assessment scheme EACH WEEK. Many of whom you have caused real and measurable harm to. The ATOS assessments that LibDem government supporter Sir Bob Russell MP stated (in the 2010-2015) House of Commons were: "NOT FIT FOR PURPOSE". No there is a 'perfect storm' on it's way comprising the triumvirate of (i) 81,140 welfare-reform-deaths (here); (ii) mentally-tortured (here) and (iii) 640,000 financially-euthanised people with disabilities (here) that are about to commence litigation against the DWP, IDS and their ilk in a way that makes the factually based banking sector fines and billion pound settlements seem like a drop in the ocean. All because Iain Duncan Smith and his DWP have completely screwed up welfare reform.  
The subscribers to this website AGREE that the welfare system needs reform. BUT this reform must be FAIR and JUST. Not the rigged effort designed to dump as many disabled into death sentences as currently appears evident given the list on this website. Nor the hundreds of patients with psychological disorders that have suffered nervous breakdowns and hospitalisation because of this mess, or the thousands that have been psychologically tortured by a systemically flawed Work Capability Assessment interrogation process. If anyone reading this thinks they are immune, the official statistic for mental disorders is that 1 in 4 of the UK population will suffer this affliction at some point in their life. So as it says on the lottery: It Could be You !
If the Department of Work & Pensions have no apparent interest in the human cost of death, disability discrimination, damage to people with severe stress and other psychological disorders, then consider the monetary problem?
Instead of some politician using that over worn phrase: "We promise to learn the lessons that need to be learnt" – the one generally trotted out right before that same politician stiffs the taxpayer for a multi-million or billion pound mistake, here is an idea.
How about learning that lesson BEFORE the thousands of solicitors listed in the Yellow Pages and on the internet under claims-for-free or claims-r-us commence the seemingly inevitable collation of people who have had their rights infracted and have a civil, or even a criminal claim against the Government because of all of this bungled legislation and malfeasanse in the application of those faulty laws?
Here is a historic (2011), self-explanatory Freedom of Information Request to the Secretary of State at the Department of Work & Pensions to illustrate the problem.
Apparently even though several laws require the disclosure of "Contingent Liability", the Department of Work & Pensions still believe they are exempt from the law.
Iain Duncan-Smith,
Secretary of State,
Department of Work & Pensions.
Dear Secretary of State,
FREEDOM OF INFORMATION ACT 2000
FREEDOM OF INFORMATION (SCOTLAND) ACT 2002

In terms of the above named Freedom of Information Acts, please can you send me a copy of the Department of Work & Pensions (DWP) Risk Analysis Report into the £20 Billion to £200 Billion CONTINGENT LIABILITY that now attaches to the DWP and HM Treasury as a result of the diabolical mess the current DWP Welfare Reform is in?
The DWP Risk Analysis should cover the alleged 15 (now 60) WELFARE REFORM DEATH TOLL so far evident from Welfare Reform and general DWP policies. Along with the CONTINGENT exposure of the DWP to punitive and civil damages for people who have tried to commit suicide and been 'sectioned' under the Mental Health Act, again, as a result of alleged DWP policies.
The figure of £20 Billion DWP-Death-Toll CONTINGENT LIABILITY is based on legal precedent set, for example:-
ASBESTOS – Negligence Claims – £20 BILLION

http://web.archive.org/web/20120218092932/http://news.bbc.co.uk/2/hi/business/3972183.stm
PIP – Loan Insurance Mis-selling (no one died!)
Just ONE company set aside £3.2 BILLION
Barclays set aside £1 BILLION
HSBC £269,000,000, RBS £1 BILLION +
Plus smaller fry such as Santander at £580,000,000…
www.moneysavingexpert.com/news/banking/2011/07/santander-reveals-PPI-charge-of-half-a-billion
ENDOWMENT – Mis-selling (no one died)
£2.2 BILLION
I look forward to receiving the report with the due diligence you have conducted to cover your department's CONTINGENT LIABILITY for this issue.
Please also confirm that you have notified HM Treasury that lawyers are already preparing caseload against the DWP given the documented allegations from numerous sources of the 15 (now 60) WELFARE REFORM DEATH SCANDAL, and related near-mental-torture endured by thousands through the current dysfunctional and discredited DWP WCA system?
I look forward to receiving a copy of the DWP Risk Analysis within the statutory 20 day time limit.
*Chancellor George Gideon Osborne
Doing What He & Fellow Conservatives Do Best
Taking Everything From The Vulnerable & Weak
Not Content With Minister of Manslaughter Policies, This Shows How Much Contempt Bullingdon Boy Osborne Has For The Pesky Cripples…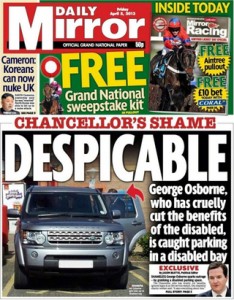 Disgusting: George Osborne's Conservatives Takes Everything From The Disabled
From Disabled Parking Spaces To Their Lives.
Have We Missed Anything? Apart From George Osborne Spending Taxpayer Money On These…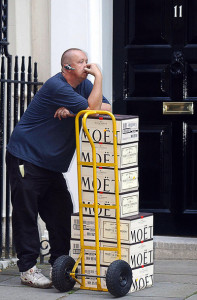 George Osborne Spending Money He Has Taken From People With Disabilities On His Personal Priorities. Sickening.