This front page is full of news and updates in our efforts to reduce welfare reform deaths. For the definitive Calum's List, please click on the relevant link below...
 Welfare Reform Deaths – Memorial Pages: Click Here
A MINIMUM OF 65 DISABLED OR VULNERABLE PEOPLE WHO HAVE DIED
We know of these 64 welfare reform deaths from their friends and/or family contacting this website. The UK figure is nearer 4,000 but could be as high as 81,140 welfare reform deaths - government stats: click here. But we have only listed those folk whose family or friends – or even themselves before they die, have gotten in touch. To try and list 4,000 peoples' deaths would kill off the small group left standing at this end of the website. There is already trauma at losing so many people, several of whom became close friends. So our list is just 64+. We really want this welfare reform death toll to stop. Please.
Consider signing our petition: click here
Original Calum's List: here
+++++++++++++++++++++++++
Can You Help Us?
Please consider copying the following photo and post it onto your Facebook or Twitter account with a link to www.calumslist.org   Thankyou..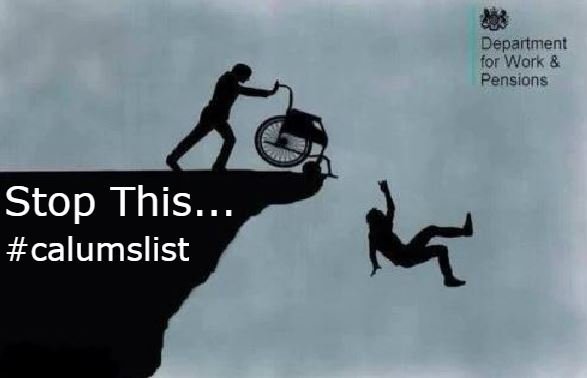 All you need do to help reduce the number of Welfare Reform Deaths and Universal Credit suicides is to share a link to this welfare reform death memorial list on Facebook and Twitter.
Hashtag # The Hell Out of Calum's List.
Please Share This Memorial & Tragic DWP Deaths Page…
#calumslist
We know this works as one of our supporters was becoming suicidal at the loss of her Disability Living Allowance and failure to qualify for PIP. Her sin was the inability to grow two new legs to replace those that had been amputated.
#calumslist
After a two-hour telephone call to ourselves, our new friend was no longer suicidal. She had replaced that despair with sheer and utter anger at the DWP. It is an unusual way to get the suicidal ideation and actuation shunted out of someone's mind. Many things can help. Ideally, a fair and decent social security system is the best medicine. 
#calumslist
However, one useful and helpful way to extinguish the deathly outcome the DWP push people towards, is to get angry, bloody angry with these reptiles who have brought you to your knees. You are worth 100 times that of Iain Duncan Smith, Amber Rudd and all the other odious Tories who need to be at the business end of a corporate manslaughter charge.
Calum's List: Number 65.
Please consider copying the following photo and post it onto your Facebook or Twitter account with a link to www.calumslist.org  The more decent-minded folk that understand welfare reform deaths are a real problem, the more likely we are to stop ill people being worried to their deaths. Thankyou…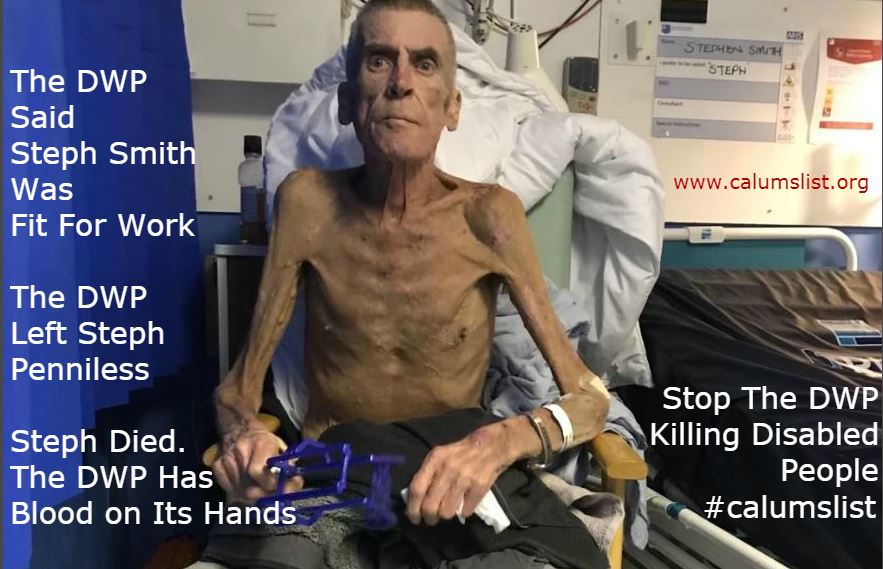 Stephen Smith: The DWP Have Blood On It's Hands: Click Here
#calumslist
Transform that anger into doing something to let other people know they are not alone. That there is hope to get these politicians into court. Please help us share this memorial website on social media.
#calumslist
Even better, please copy a photograph: perhaps even Theresa May pity-me, pity-me photo meme at the top of this page and put it on your Facebook timeline and Twitter feed with…
#calumslist
The more decent people that know about the dirty DWP secret of 81,140 welfare reform deaths (and 10,000 more since that government report here) the more likely political pressure will be applied to…
Stop The Welfare Reform Deaths
Thank you.
+++++++++++++++++++++++++
Goodbye Theresa
Please consider copying the following photo and post it onto your Facebook or Twitter account with a link to www.calumslist.org   Thankyou..
Theresa May lasted around 3 years as prime minister. The buck stopped with her during that time when 3,633 people with disabilities were killed off by her Secretaries of State at her Department of Work & Pensions.
God help the disabled with what comes next. Boris Johnson will have no compunction about euthanising more disabled people to save money for his rich Tory Toff pals. And still people, who, in most terms are decent, keep voting Conservative. Go figure.
++++++++++++++++++++++++++
News & Updates
The prime reason for Calum's List is to always remember the names of real people who have passed away where the Department of Work & Pensions welfare reform has had culpability in the premature deaths of people with disabilities and/or illness, or just murder of decent folk by Universal Credit.
The subscribers to this website are also aiming to STOP these welfare reform DWP deaths. To this end, news and updates are added to the narrative below. Please check back regularly as from July 2019 we believe real progress is being made.
++++++++++++++++++++++++++
Today, 21st July 2019 our hearts sank. We learnt from friends of… 
Philip Herron
Calum's List: Number 64
Please consider copying the following photo and post it onto your Facebook or Twitter account with a link to www.calumslist.org  The more decent-minded folk that understand welfare reform deaths are a real problem, the more likely we are to stop ill people being worried to their deaths. Thankyou…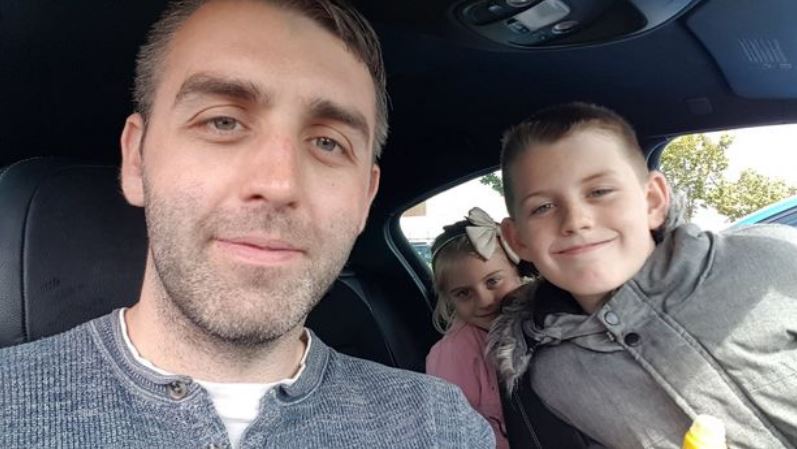 Phillip Herron. Another DWP Suicide
Young single dad of three waited weeks for no DWP Universal Credit
Phillip had just £4.61 left in his bank account when he took his own life. Phillip was just 34 years old. The DWP persist in evading any responsibility. There are now three young children without their father.
The Department of Work & Pensions along with Sadist of State the outgoing Amber Rudd MP and her DWP henchmen and women trotted out their usual cynical excrement…
"Our thoughts are with Mr Herron's family. Suicide is a very complex issue, so it would be wrong to link it solely to someone's benefit claim. It was not us at the DWP. We always cover our backsides. The usual excuses: a big boy did it and ran away constable. Anyone losing their job or becoming ill/disabled… Jog along now back to your foodbanks you plebs (Tory Andrew Mitchell term: here)"
The truth of this tragedy has been discovered by Phillip's mum after she was able to access his mobile phone…
"Universal Credit was the final nail in his coffin, said Phillip's grieving mum Sheena Derbyshire."
At Calum's List, we believe after paying years of PAYE and National Insurance, the DWP owed Phillip Herron and his children a duty of care. The DWP have more blood on their hands.
Back From His Crypt: Dr Ian Deathly Smith Wants To Have His Reward. Deputy PM.
Many disabled people on Duncan Smith's Death Row are praying 1,220 good people from Chingford (and especially) Woodford Green change their vote at the next General Election so this blood sucking reptile will be turfed out of Parliament.
Duncan Smith's naked ambition is now directed at getting his dream job of Deputy Prime Minister in Boris Johnson's new government. Meanwhile, anyone not "in the club" of millionaires and those twin-set-and pearls church-going Tory ladies chose to ignore the poor and continue to vote Conservative. Vote death to the disabled.
Duncan Smith is not content with becoming the new Deputy Prime Minister: he covets the role of Chancellor of the Exchequer too.
Iain Duncan Smith penny-pinched from the poorest in his the design of Universal Credit – making that safety net paid monthly in arrears, meaning an average wait of at least five weeks for the first payment. Mass murderer Duncan Smith, aged 65 has a lot of blood on his hands.
Meanwhile, this is all too late for Phillip Herron. Died from Duncan Smith's policies of foodbanks, ATOS, Maximus and Crapita. Driven by the gerrymandered Work Capability Assessments that treat the sick, disabled and those on hard times to foodbanks, homelessness and self-destruction.
Phillip Herron's mum, Sheena hopes that the evidence she found on her son's mobile phone incriminating the DWP will be used at a full inquest into Phillip's death, at Sacriston, Co Durham, and expose the failings of Universal Credit. Our hopes and prayers are with Sheena, her family and those poor wee children who just lost their dad.
Click Here For Further Details For Phillip Herron
++++++++++++++++++++++++++
 Amber Rudd & Imminent Court Date
Amber politely says of the HM Court summons to her friend: "After you Boris!"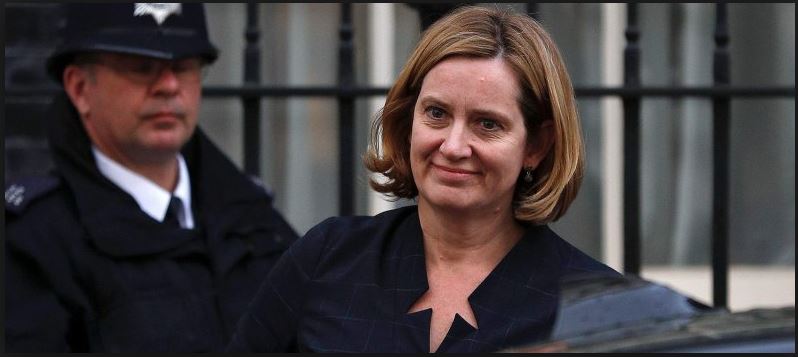 Amber Rudd: DWP Secretary of State & Legal "Directing Mind" – Click Here
+++++++++++++++
Michael Moore started "Calum's List" in 2012. Michael is now dead. The remaining subscribers here at this website cannot prove the DWP killed Mick; not to the burden of proof needed. But we who knew Michael Moore have no doubt that the DWP hastened and were culpable in his welfare reform death.
It has taken a long time and many disability deaths, but we have some good news. Tinged with some sad and bad revalations.
At last, as of 20th May 2019 we have now been handed a forensically documented case where the DWP officials were warned that their gerrymandered "Health Assessment" processes were causing a client to have hypertensive blood pressure crisis that was risking his life. Here is a callous example of this Russian Roulette approach the DWP adopt towards disabled citizens and their health, injury and death…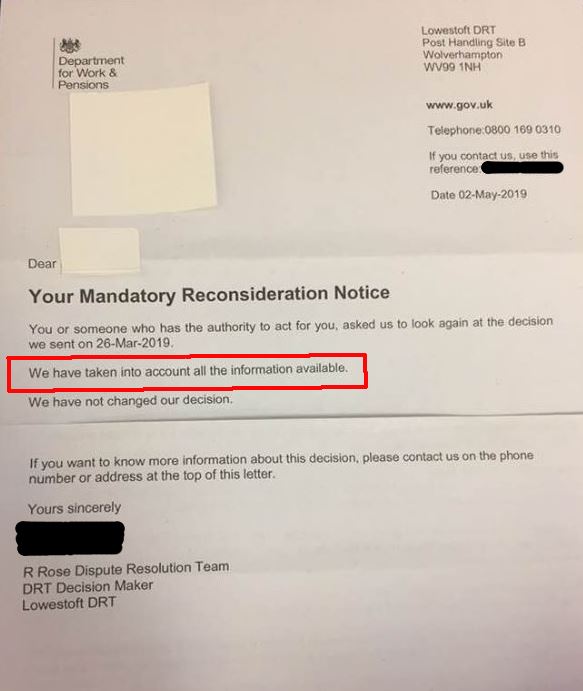 R. Rose & DWP Official Peter Schofield Now Exposed To Litigation
The "normal" blood pressure of this disabled person was between 130 and 145mmHg over 85 to 95mmHg systolic/diastolic respectively.
Crucially the DWP and R. Rose, in particular, were WARNED BEFOREHAND of the danger to health and life that their gerrymandered systems were causing to this patient.
This is because of the fact he had witnessed so many DWP welfare reform deaths.
The repetitive effect on his blood pressure was for it to rocket sky-high at the prospect – and anger – of being in a room with these lethal "healthcare workers". Many of whom have signed and consigned dozens of disabled people to their deaths.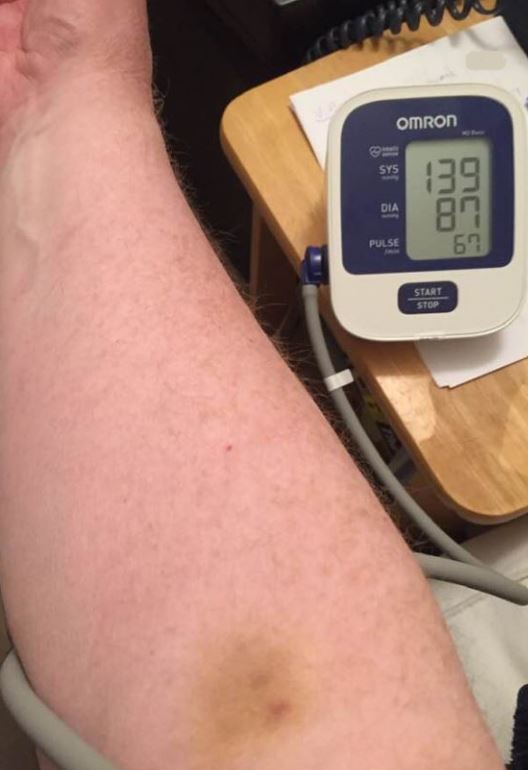 This Patient's "Normal" Blood Pressure Reading (witnessed).
Unfortunately, after reading the Lowestoft DRT Decision Notice letter, authored by "R. Rose" ignoring his pleas about DWP induced hypertensive blood pressure crisis in the letter above and a subsequent one-and-a-half-hour STRESSFUL telephone call to the DWP (1 hour 14 minutes on anxiety-inducing hold) the patient's blood pressure went from 139/87mmHg UP to a lethal 205/111mmg. This telephone call was recorded by the DWP official and they were notified of the 205mmHg DWP induced hypertensive crisis (here).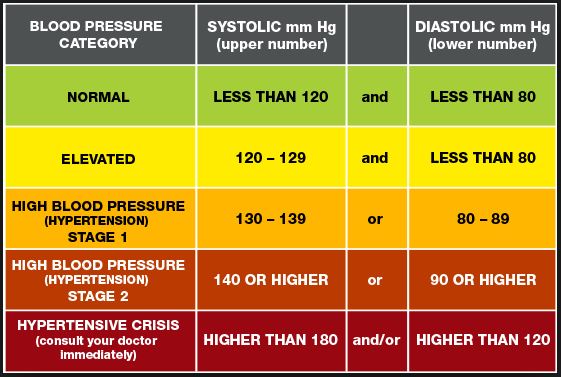 By the time the patient had a witness to this DWP induced hypertensive blood pressure crisis 11 minutes later, it had reduced to 196/109mmHg (still harmful/lethal)…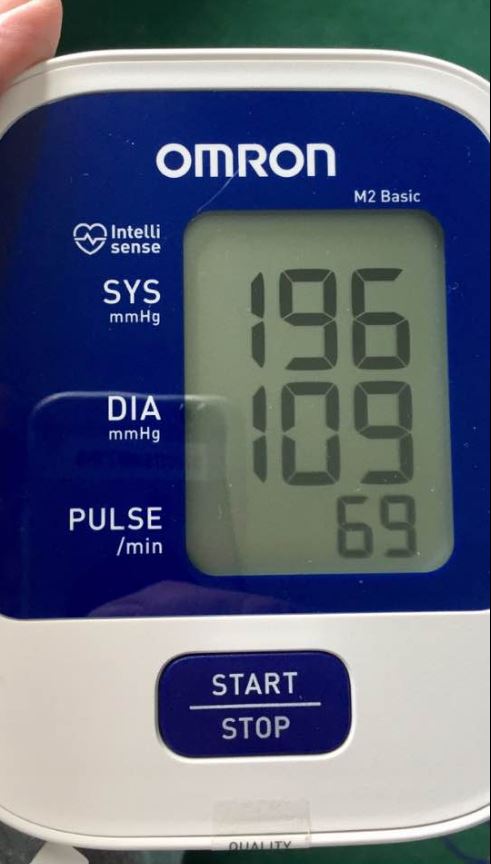 This Patient's "DWP Health Assessment" Blood Pressure Reading (witnessed).
The DWP and "R. Rose" were warned of the risk to life. Repeatedly. Yet Rose and ultimately DWP permanent secretary Peter Schofield and political head of the DWP Amber Rudd MP are responsible for what happened next.
The patient collapsed and was rushed to hospital. After two CT scans and an MRI, the neurosurgeon diagnosed a stroke. There was a TIA, but because cerebral infarction had occurred there was also a STROKE.
Even now, neither Rose, nor Schofield, nor Rudd appear at all bothered about the outcome of their actions.
The trouble is, this infraction of the law; technically several statutes and common law crime, has been assiduously documented and witnessed. All ready for HM Court and due legal process.
It is tragic that someone has become very ill at the hands of these three DWP employees and their colleagues.
There is also a statistical, peer-reviewed increase of risk of death by the actions of Rose, Schofield and Rudd.
Consequently, if Calum's List goes offline or has a very restricted narrative on this website in place of the current efforts to stop this carnage – and the memorial lists below – this is to avoid risk of infracting sub judice rules (here) or statutory equivalent.
We have long wondered about the MP Expenses Scandal causing several MPs and two Lords to be sent to prison for the "mere" act of theft.
If the judicial system jails miscreant MPs for nicking a few quid, what on earth will be the sentence for causing death by corporate manslaughter, et al?
Sad that it will take yet another tragedy to find out. But at least there is NOW ample evidence of how the DWP systemic failures and disreputable "health assessment systems" a.k. disability denial factory causes illness, injury, suicides and manslaughter.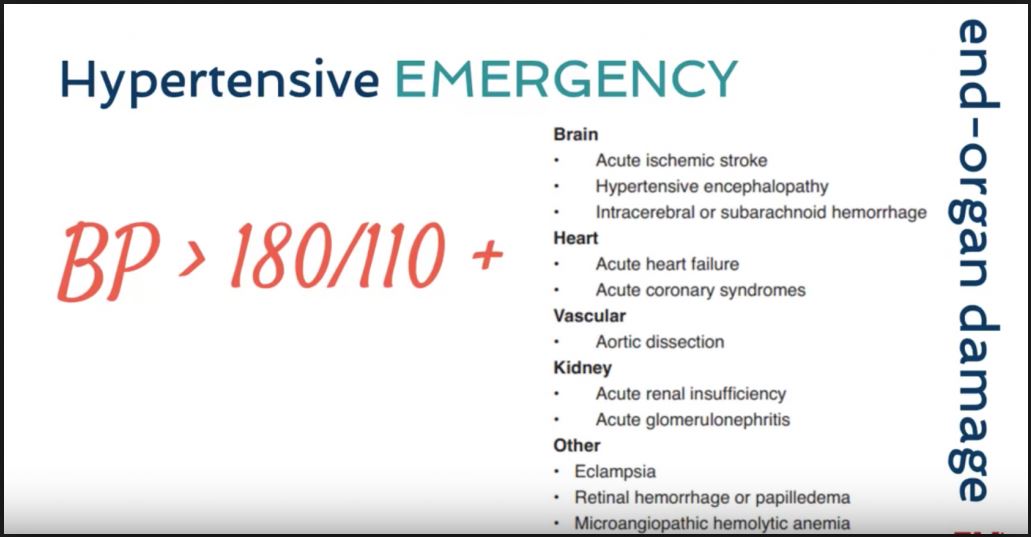 Too Late For This DWP Victim?
Too Late For Amber Rudd?
For seven years, those responsible at the DWP for this lethal welfare reform system have escaped any proper independent accounting of their toxic, deathly actions.
Now, in May and June 2019, upon receipt of detailed files, collated by a former police officer to procurators fiscal standard, we are on the verge of having sufficient evidence to help stop the gerrymandered deadly DWP welfare "Health Assessments" and seek a court order requiring a SAFER and NON-LETHAL system is put in its place.
This evidence is currently being reviewed by solicitors in preparation to present before HM Court, in Scotland.
The case will also grant a final wish, where the person whose arm you see showing the DWP induced blood pressure hypertensive crisis in the photograph above, will be able to look these DWP people in the eye and ask the sheriff (the name for a Scottish judge) for justice: for those DWP miscreants to face civil and/or criminal proceedings.
Notwithstanding what the judge might say after studying the evidence collated and presented by a trained, qualified and commended former police officer, there is a significant risk he will keel over and die of another DWP induced stroke in that stressful court environment.
In an sad indictment of the DWP, he told us: "What better way to die, than in front of the DWP Secretary of State, Amber Rudd, with her sitting a few feet from me to see at first hand what her cruel, toxic dogma does to people, all before the presiding judge in a court room, with ample witnesses?"
What do you think the result of this might be?
Surely at this point, the sheriff may choose to have the miscreant DWP officials arrested or detained? Rose, Schofield and Rudd have had ample warning, yet persist in this torment and risk to life.
One way or another it is looking hopeful, at long last and after thousands of disability deaths that several DWP officials will go the same way as the dodgy MP Expenses crooks. Prison.
++++++++++++++++++++++++++
Earlier Update
So far, mass demonstrations, large petitions and DWP welfare reform deaths even being raised on the floor of the House of Commons have been ineffective in stopping these alleged DWP homicides. The exact words of John McDonnell effectively date-stamp DWP culpability to January 2013.
The television coverage of parliament below gives clear warning to the DWP that their welfare reform ASSESSMENTS cause 51% of vulnerable disabled people to have suicidal thoughts.
This assists in the evidential chain, potentially exposing the DWP to litigation for every welfare reform death after 17th January 2013. Six years of 81,140 WCA deaths coming back to the DWP to haunt those who were only following orders…
Original Parliamentary Hansard Warning To The DWP – Source: Here
Several of the original Calum's List subscribers have subsequently died, one of whom was in tears at this speech by John McDonnell…
"Someone who was mentally ill; went for the assessment and then had a nervous breakdown. It had an impact on the whole family, on his mother in particular. "
For seven years, the subscribers and followers of this website have been watching friends die where the DWP/ATOS/Maximus/Capita appear to any decent minded person, to have had culpability. The founder of Calum's List, Michael Moore had several operations on his spine and suffered great stress at the hands of the DWP. Before he died of a heart attack, Michael helped many people on his main website…
It was on Michael Moore' forum that Calum McLean first posted a link as he was worried about the new welfare reforms causing harm and even deaths. Calum was appalled to find that in 2012, there were 6 people who had died within the welfare reform "assessment" system where the DWP were implicated in culpability. Those six souls seemed like a high number back then.
Who knew DWP welfare reform deaths could reach a significantly large slice of the official 81,140 WCA "Health Assessment" ESA, IB and SDA claimant mortality statistics.

Thanks to Iain Duncan Smith, this death toll is just collateral damage and has been normalised in DWP minds.
Others added to the original Calum's List. Many people who believed they would die at the hands of the DWP got in touch, became friends and have eventually ended up on this wretched list. Even Michael Moore, the founding host of this website died at the hands of the DWP and is, himself, now a name on Calum's List: here.
After Michael Moore died, Calum's List went offline and appeared to die too.
Then friend, Phil Lockwood re-established a revived Calum's List website.
Phil is not yet on the list, but he became seriously unwell at the hands of Iain Duncan-Smith MP and Chris Grayling MP when they were in charge. Phil broke down and ended up in hospital seriously ill. Calum's List memorial website expired and went completely offline again. But the DWP deaths kept on happening with sickening regularity. So a group of new friends resurrected this website for a third time and are intent on stopping these welfare reform deaths.
What next?
Clearly, the House of Commons and all those petitions and demonstrations have not yet come near to repairing this lethal DWP mess.
So the new group here believe the DWP may be halted or at least legally ordered to remedy the lethality of their process as a result of HM Court action.
In 2019 it may just happen. As of 20th May 2019 we have received a detailed DWP Subject Access Review file, along with forensic grade medico-legal evidence to mount the requisite civil and/or criminal litigation to help STOP this welfare reform death toll from increasing.
The DWP admit to their being 81,140 welfare reform deaths click here.
But they deny ANY culpability in 81,140 welfare related deaths. Aye right.
It takes just 1 out of 81,140 deaths where the DWP have culpability to HM Court standard for the logjam to become a flood of class-action lawsuits. If you were a betting person, would you reckon there might be just ONE of those cases where the DWP have criminal or civil law culpability?
Will DWP Secretary of State, Amber Rudd and her permanent secretary/accomplice Peter Schofield face justice?
Please check back with Calum's List regularly to find out.
++++++++++++++++++++++++++
Calum's List: Latest Tragic Additions
The Department of Work & Pensions view these people as numbers.
They are NOT numbers. They are human beings whose lives have been cut short by Iain Duncan-Smith, Chris Grayling, Esther McVey, Amber Rudd and their ilk. 
++++++++++++++++++++++++++
Jodey Whiting. Number 63
Killed By DWP Errors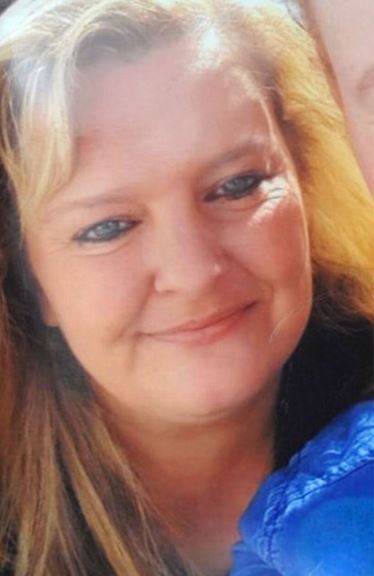 Jodey Whiting. Killed By The DWP?
Joy Dove, mother of Jodey Whiting was "shocked" by the extent of the failings outlined in documents from the Independent Case Examiner (here).
Joy says: "This was awful. There was no need. They pushed her to it" suicide.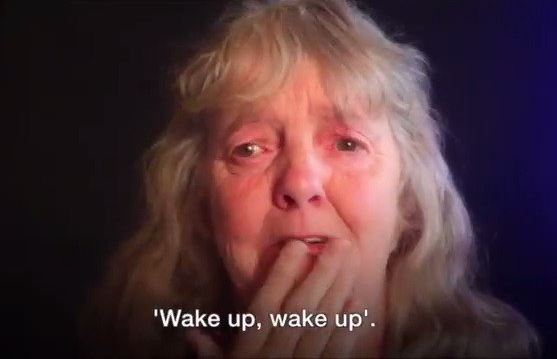 A Mum's Worst Nightmare. Was Her Daughter Killed By The DWP?
The examiner found the DWP did not follow procedures which should have seen it telephone and visit Ms Whiting after she missed the appointment. Jodey's mum is seeking legal advice over whether any further action is possible.
The DWP said it apologised to Ms Whiting's family for "failings in how we handled her case".
A spokeswoman added: "Our thoughts are with them at this difficult time and we are providing compensation."
What compensation? HJodey is dead and the DWP cannot bring her back.
Readers of this can help Jodey's mum and thousands of others. You can stop this carnage. Please consider signing the petition…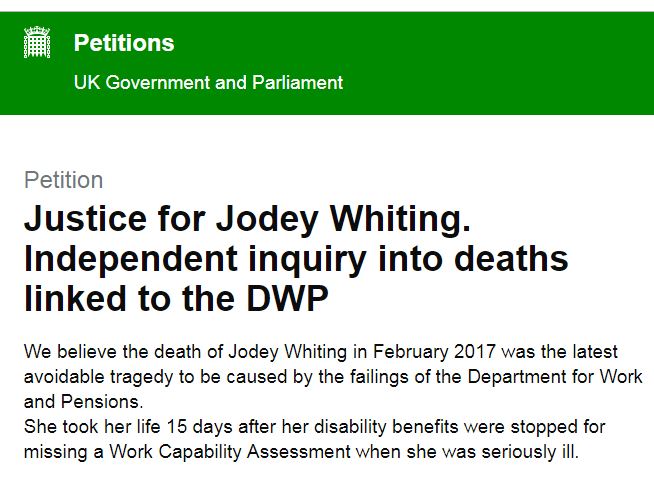 15,222 Signatures To Date
To Read & Sign This Petition Click Here
++++++++++++++++++++++++++
Elaine Morrall. Number 62.
Died – 2nd November 2017
Cause of Death? Universal Credit?
Is it now time for manslaughter charges? Is it time to bring DWP civil servants and government ministers who were warned about these deaths by HM Coroners and doctors many years ago and failed in their duty of care? There are so many DWP deaths and a paper trail leading to DWP Decision makers + Atos + Capita + Maximus contractors. All the way up to private sector CEOs and DWP ministers such as Esther McVey, Chris Grayling and Iain Duncan-Smith. All linked indelibly to the Atosisation of UK disability payments? The result….
Elaine Morrall should not have died. Her death was entirely avoidable.
Manchester Evening News Coverage: Click Here.
We can but hope that Elaine's local constabulary, Cheshire Police do their duty. Unlikely on current form. But there is hope if disgusting officers such as these two get the sack (here). The DWP/Politicians that cause deaths such as that of Elaine Morrall have known Universal Credit and the whole malfunctioning Iain Duncan-Smith welfare reform mess has been lethal for years. It has been proven to by fatal ever since Stephanie Bottrill left her suicide note blaming the government welfare cuts for her death. We have HM Coroners sending the government Reports To Prevent Future Deaths (here) and no one at the DWP listens.
++++++++++++++++++++++++++
Daniella Obeng. Number 63.
Echoes of "I Daniel Blake"…
A British singer-songwriter was found dead after travelling abroad to find work when her disability benefits were cut off by some yet to be named official at the DWP.
Daniella Obeng, 32, had been living with a brain tumour and epilepsy, when she was found dead on 25 September 2017. Just about a year after the film: "I Daniel Blake" was released. Will the DWP and government ministers such as Iain Duncan Smith, Damien Green, Esther McVey (and that strange bloke from Wales that nobody can remember) ever learn? Slowly but surely the mountain of evidence against culpable Secretaries of State and those who send the disabled off to die is being collated to form the basis of a court case. Those in charge of culling the sick in the UK should be getting worried around now (March 2018).
Click Here For The News Report For Daniella Obeng
++++++++++++++++++++++++++
Lawrence Bond. Number 64.
More Echoes of "I Daniel Blake" (here)…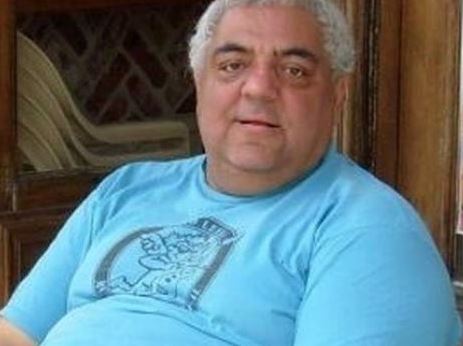 Lawrence Bond – Rest In Peace
Our friend, journalist John Pring raises important questions about one of HM Coroners. At best, several may be guilty of incompetence; at worst Malfeasance in Public Office. This is our view. As a disturbing example, when you look at the history of Dr Brittain in his coronial duties it is not the finest reflection of that vocation and raises serious questions about HM Coroner rules to prevent "future deaths" and protect vulnerable people. We believe that after reading some of these cases…
Dr Brittain's Case Book: Some Extracts: Click Here 
…the performance of Dr Brittain should be independently audited. In relation to the tragic death of Lawrence Bond a 10 minute quickie in front of Richard Brittain is highly questionable on so many levels.
The Disability News Service couches the problem of coroners failing to prevent further deaths in more delicate terms, we quote…
"A coroner has declined to explain why he failed to take evidence on the apparent links between the government's "fitness for work" test and the death of a disabled north London man.

An inquest into the death of 56-year-old Lawrence Bond, was expected to hear details of how he was found "fit for work" last autumn and then visited Kentish Town jobcentre hours before he collapsed and died in the street on 12 January.

Despite the failure of assistant coroner Dr Richard Brittain to examine those aspects of the case, the Department for Work and Pensions (DWP) has confirmed that it is carrying out an internal, confidential investigation – known as an internal process review – into the circumstances of Bond's death.

The former electrical engineer had visited the jobcentre earlier on the day he collapsed and died from a heart attack, and was awaiting the result of an appeal against being found fit for work.

There had been hopes that the inquest at St Pancras Coroner's Court would hear from the healthcare professional from the government contractor Maximus who had assessed Bond and found him fit for work, as well as jobcentre staff who had seen him on the day he died." End quote.
Calum's List believe that HM Coroner Richard Brittain failed Lawrence Bond and his family. Just as bad, Dr Brittain is likely to condemn other vulnerable people to avoidable death due to his failure in discharging his coronial duties relating to "prevention of future deaths" statute (here).
Click Here For Full Article: Lawrence Bond.
++++++++++++++++++++++++++
Original Calum's List >>>
.
.
.
.