Calum's List: Here. Latest Updates Below This Line…
---

(Archived Telegraph Article: Here)
---
 Latest Additions To Calum's List
Calum's List: Number 66.
Please consider copying the following photo and post it onto your Facebook or Twitter account with a link to www.calumslist.org – The more decent-minded folk that understand welfare reform deaths are a real problem, the more likely we are to stop ill people being worried to their deaths. Thankyou…
Stephen Smith: Assessed As "Fit To Work" By The DWP: Click Here
We believe the vast majority of people are good hearted and fair. Please let them know about the DWP's own figures of 81,140 welfare reform deaths (and 10,000 more since that government report here). If you share these harrowing stories, then our 66 friends will not have died in vain because you will be helping to…
Stop The Welfare Reform Deaths
Thank you.
+++++++++++++++++++++++++
---
This front page is full of news and updates in our efforts to reduce welfare reform deaths. For the definitive Calum's List, please click on the relevant link below...
 Welfare Reform Deaths – Memorial Pages
WE KNOW A MINIMUM OF…
66
DISABLED OR VULNERABLE PEOPLE WHO HAVE DIED
Our small team here at Calum's List personally know of 66 welfare reform deaths from our friends who have ended their lives or passed away. This is because we have visted friends and/or folk themselves in hospital. The DWP and ATOS, MAXIMUS & CAPITA should be facing a Public Inquiry. Family and friends of the dead have been contacting this website between 2012 and 2019. The much larger UK figure is nearer 4,000 but could be as high as 81,140 welfare reform deaths - government stats: click here. But we have only listed those folk whose family or friends – or even themselves before they die, have gotten in touch. To try and list 4,000 peoples' deaths would kill off the small group left standing at this end of the website. There is already trauma at losing so many people, several of whom became close friends.
So our list is just 66.
Including the founder of this website…
Michael Moore.
Rest in Peace Mick.
You helped hundreds of folk with your kindness.
We really want this welfare reform death toll to stop. Please.
Consider signing our petition: click here
Original Calum's List: here
+++++++++++++++++++++++++
---
A Few Good Men & Women
There are good people that restore our faith in human decency. They make a vital difference. Below we discovered an incredibly emotional speech. The small team at Calum's List were moved beyond words. Thank goodness for women and men of genuine integrity…
Original Parliamentary Hansard Warning To The DWP – Source: Here
Since Michael Moore started this website in 2011, several of the original Calum's List subscribers have subsequently died, one of whom was in tears at this speech by John McDonnell.
---
Lethal Bedroom Tax
Source: Here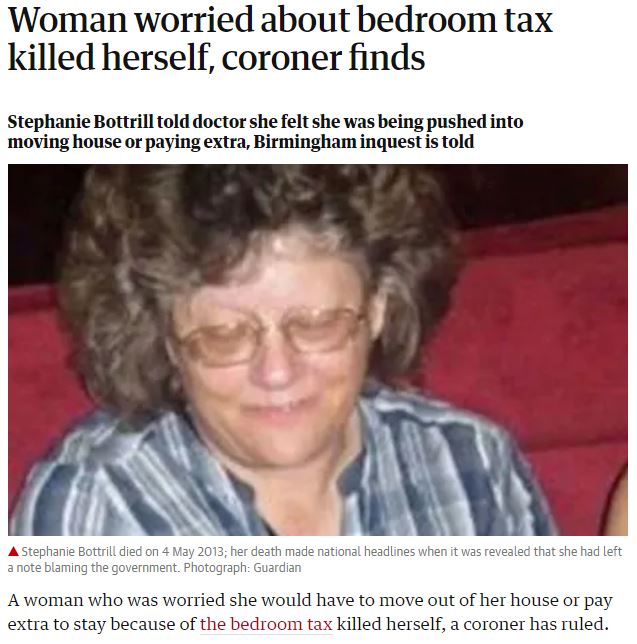 Photo Above Is Stephanie Bottrill In Happier Times. Below? Heartbreaking…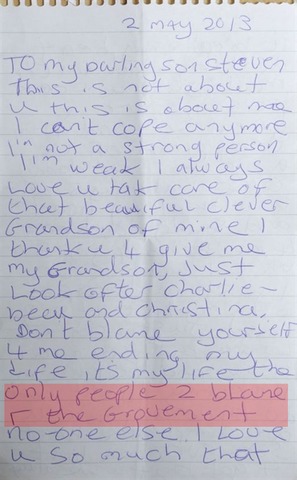 Stephanie Bottrill's Suicide Note
---
 Today, 21st July 2019 our hearts sank. We learnt of this tragedy from friends of… 
Philip Herron
Calum's List: Number 65
Please consider copying the following photo and post it onto your Facebook or Twitter account. The more we let good, honest, decent-minded folk that welfare reform deaths are a real problem and decimate families, leaving kids without a Dad or Mum, the more likely we are to stop ill people being worried to their deaths. Thankyou…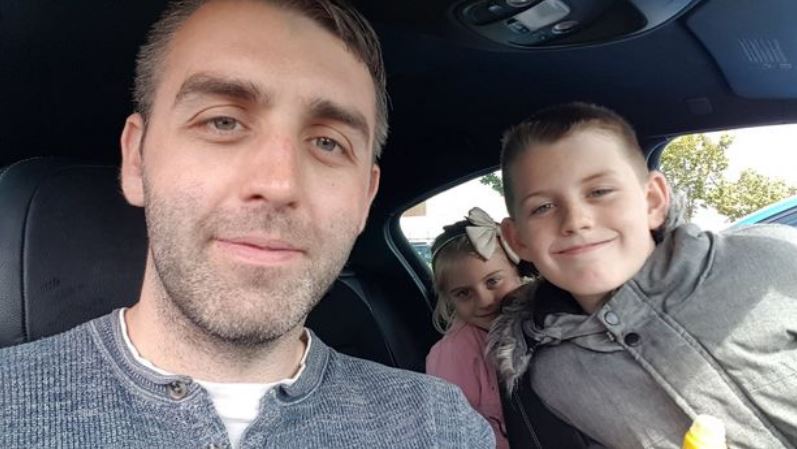 Phillip Herron. Another DWP Suicide.
The Tory Party Dismiss This As Irrelevant To Their Policies.
Young single dad of three waited weeks for no DWP Universal Credit
Phillip had just £4.61 left in his bank account when he took his own life. Phillip was just 34 years old. The DWP persist in evading any responsibility.
There are now three young children without their father.
The Department of Work & Pensions trotted out their usual cynical insincere PR spin…
"Our thoughts are with Mr Herron's family. Suicide is a very complex issue, so it would be wrong to link it solely to someone's benefit claim. 

Aye right. How about the DWP read Stephanie Bottrill's suicide note. Or maybe even their own report: here.
The truth of this tragedy has been discovered by Phillip's mum after she was able to access his mobile phone…
"Universal Credit was the final nail in his coffin, said Phillip's grieving mum Sheena Derbyshire."
At Calum's List, we believe after paying years of PAYE and National Insurance, the DWP owed Phillip Herron and his children a duty of care. Surely there should be a JUDICIAL REVIEW or some form of INDEPENDENT INQUIRY into these welfare reform deaths?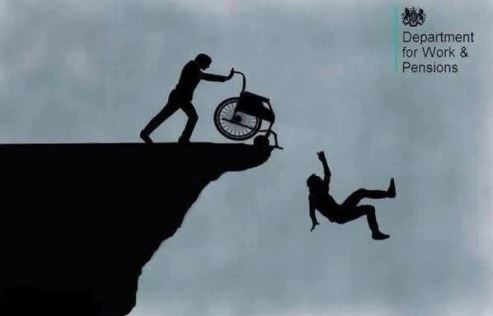 If A Bus Carrying 66 Disabled People Crashed Into The River Thames…
There Would Be A Public Outcry At 66 Deaths.
So Why Do Few People Know About All of These Welfare Reform Deaths?
Click Here For Further Details For Phillip Herron
+++++++++++++++++++++++++
---
Jodey Whiting
Number 64 on Calum's List
Died By Mistake?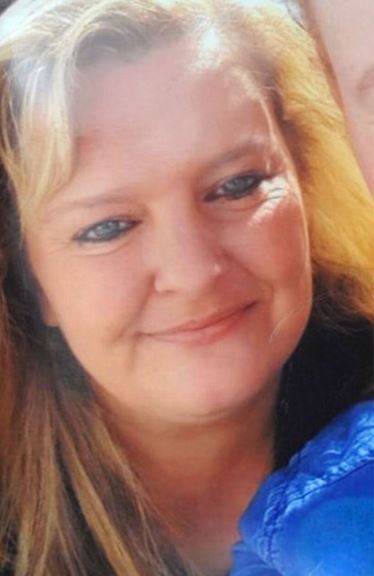 Why Is Jodey Whiting Dead?
Joy Dove, mother of Jodey Whiting was "shocked" by the extent of the failings outlined in documents from the Independent Case Examiner.
Joy says: "This was awful. There was no need. They pushed her to it" suicide.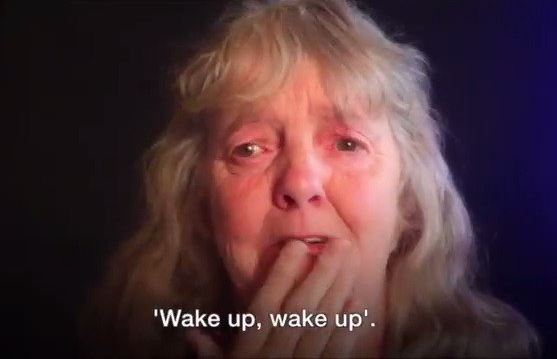 A Mum's Worst Nightmare: Her Daughter Being Found Dead. Who Is To Blame?
The examiner found the DWP did not follow procedures which should have seen it telephone and visit Ms Whiting after she missed the appointment. Jodey's mum is seeking legal advice over whether any further action is possible.
The DWP said it apologised to Ms Whiting's family for "failings in how we handled her case".
A spokeswoman added: "Our thoughts are with them at this difficult time and we are providing compensation."
What compensation? Jodey is dead and the DWP cannot bring her back £25? Maybe £50?
Readers of this can help Jodey's mum and thousands of others. You can help stop this carnage. Please consider signing the petition…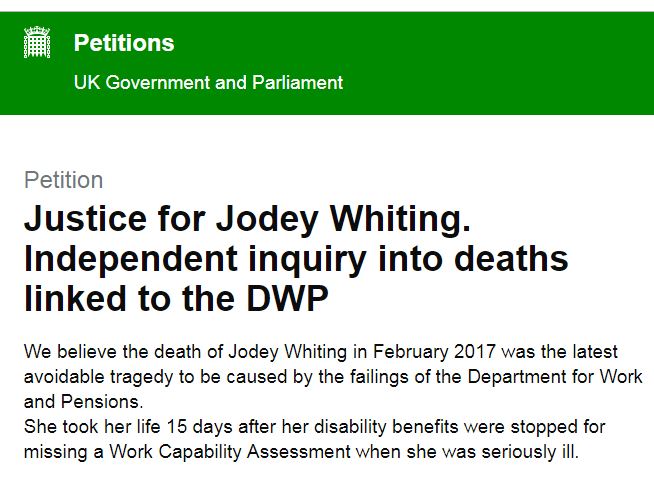 15,222 Signatures To Date
To Read & Sign This Petition Click Here
+++++++++++++++++++++++++
---
Elaine Morrall
Number 62 on Calum's List
Cause of Death? Universal Credit?
Is it now time for a PUBLIC INQUIRY? Surely someone made this lethal mess? We are certain many have failed to stop what HM Coroners have warned the Conservative government are "preventable deaths".
The Conservative government have received the Coronial Law warning on this: Click Here.
That formal warning is very important, as by ignoring a coroner's written advice that AVOIDABLE DEATHS WILL OCCUR IN THE FUTURE exposes the ministers to serious criminal proceedings at court. The legislation to which we refer carries NO exemption and NO immunity for the political and/or civil service head at the DWP – Schedule 1, Section: F9. Click Here. 
All linked indelibly to the Atosisation of UK disability payments? The result….
Elaine Morrall should NOT have died. Her death was entirely avoidable.
Manchester Evening News Coverage: Click Here.
We can but hope that Elaine's local constabulary, Cheshire Police do their duty. The DWP/Politicians that cause deaths such as that of Elaine Morrall have known Universal Credit and the whole malfunctioning Iain Duncan-Smith welfare reform mess has been lethal for years. It has been proven to by fatal ever since Stephanie Bottrill left her suicide note blaming the government welfare cuts for her death. We have HM Coroners sending the government Reports To Prevent Future Deaths and no one at the DWP or within the Conservative government listens.
Is it just us, or does Boris Johnson give the impression that his relationship with the truth harmonises with that old song: Strangers in the night?
Soon, there will be a tipping point, a reckoning and the welfare reform deaths scandal will eventually be remedied and stopped.
+++++++++++++++++++++++++
---
Daniella Obeng
Number 63 on Calum's List
Echoes of "I Daniel Blake"…
A British singer-songwriter was found dead after travelling abroad to find work when her disability benefits were cut off by some yet to be named official at the DWP.
Daniella Obeng, 32, had been living with a brain tumour and epilepsy, when she was found dead on 25 September 2017. Just about a year after the film: "I Daniel Blake" was released. Will the DWP and government ministers such as Iain Duncan Smith, Damien Green, Esther McVey (and that strange bloke from Wales that nobody can remember) ever learn? Slowly but surely the mountain of evidence against culpable Secretaries of State and those who send the disabled off to die is being collated to form the basis of a court case. 
Click Here For The News Report For Daniella Obeng
++++++++++++++++++++++++++
---
Lawrence Bond
Number 64 on Calum's List
More Echoes of "I Daniel Blake" (here)…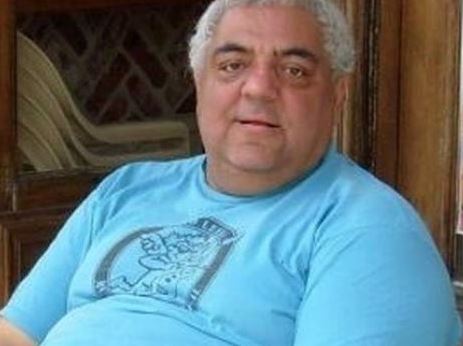 Lawrence Bond – Rest In Peace.
---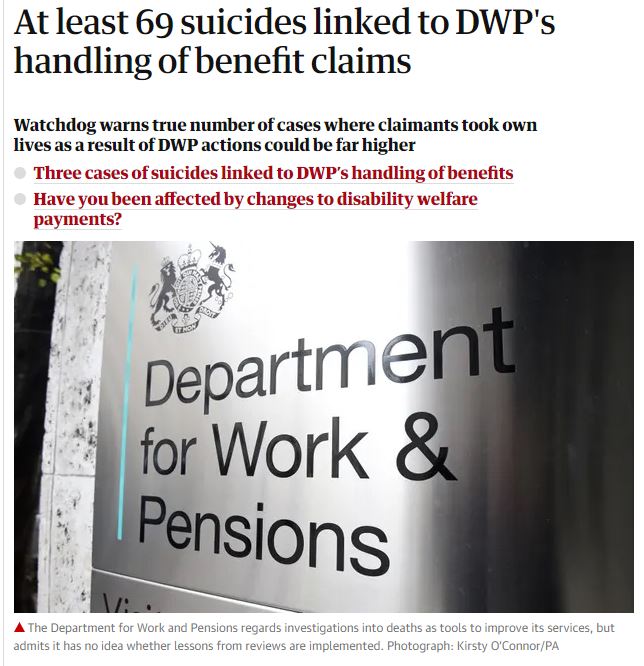 Click Here To Read This Article.
---
Original Calum's List >>>
.