This Website Is Under New Administration
Calum's List: Here. Latest Updates Below This Line…
The gentleman who started this website ten years ago was Michael Moore. He was disabled and died. This website was then kept alive by Phil Goodman. He was disabled and died. Now it has been handed to Calum. He wants to take the list offline as it triggers bouts of PTSD. Calum served as a police officer and has seen too much death in his life. But it feels wrong to remove all the folk known to these three website managers. Akin to knocking over gravestones in a church cemetery.
Calum is severely disabled. He needs some help from a doctor. Dr Thérèse Coffey MP, the Secretary of State for Work and Pensions (appointed to that position: 8th September 2019).
---
A Letter To Dr Thérèse From Calum
Dear Dr Coffey,
The DWP Work Capability Assessment system has been beset with challenges since it started. I am absolutely eligible to apply for Employment Support Allowance but have declined. So I am saving your DWP tens of thousands of pounds by NOT claiming employment benefits.
Fortunately, I can work in short bite-sized segments subject to post-stroke fatigue amongst other decrepitude and medical afflictions. Bizarrely I am only able to remote-work due to disability. Then Covid came along and made it fashionable to remote-work. Indeed it is compulsory for many.
My point? I believe the original intent of the Work Capability Assessment was a fair idea, but horrendously executed. Those lethal flaws continue to this day. However, if the WCA system can be made fairer, then more people with disabilities will remove themselves from the DWP and find a way of working. I have managed this.
Sadly, after ten years and so many deaths; many more than the friends we know and have placed on these pages, surely there is too much lethality in the current system?
Dr Coffey, I believe there is a way to make the DWP system fair. I think that you may make your political reputation and legacy if you remove the lethality from the current system.
It is rare now that anything is posted on this website. I really do want to gently take it offline. To let folk rest in peace. But feel compelled to follow my friends Michael Moore and Phil Goodman until my terminal illness knocks the door (I do NOT want nor need terminal benefit). I just ask for others.
Today, 8th November 2021, a BBC report distressed me beyond measure. God knows what it did for the bereaved family 
I beg you Dr Coffey, please repair the current DWP system.
Kind regards,
Calum.
---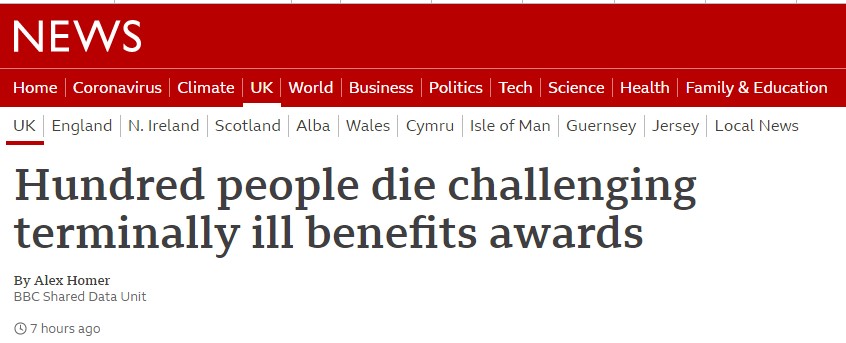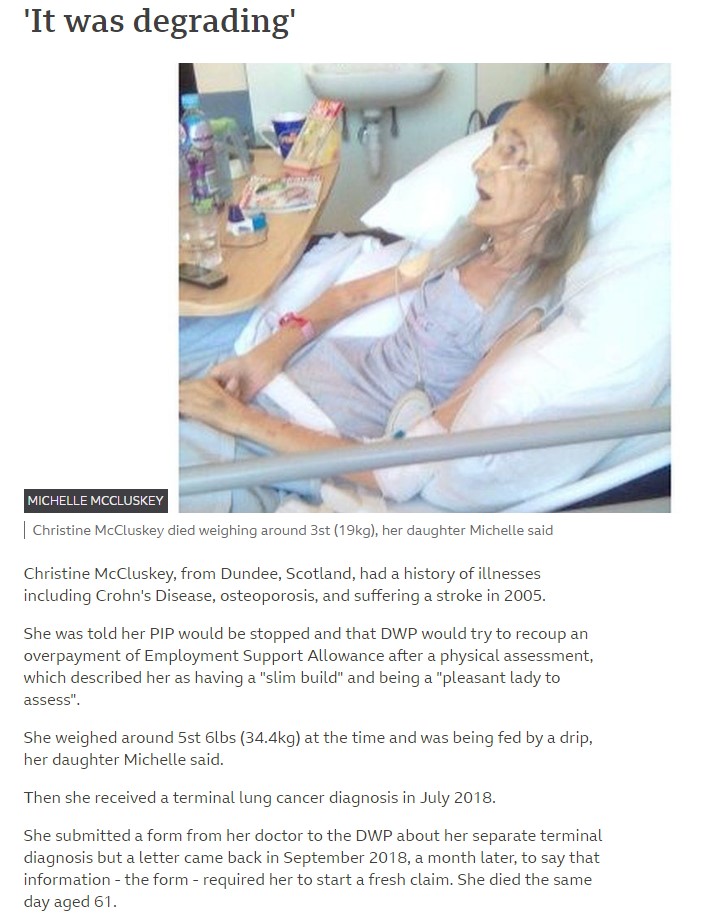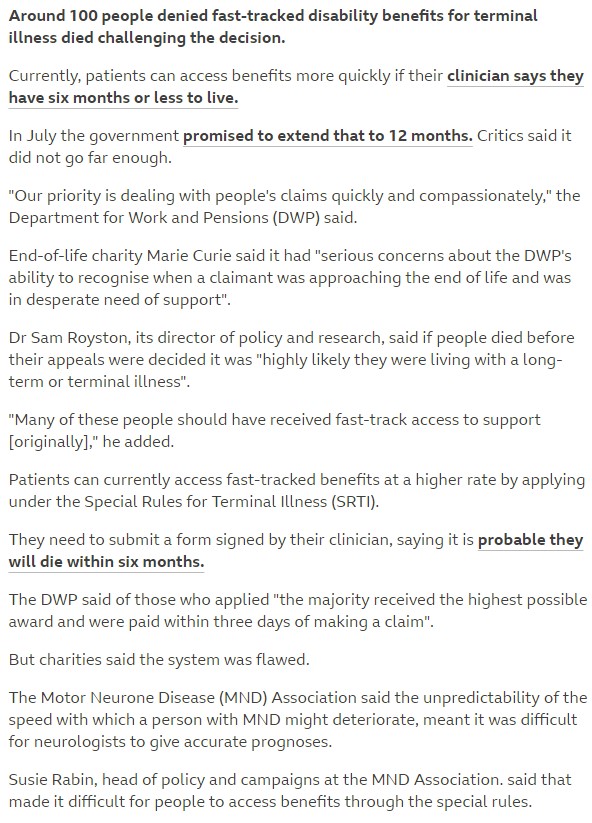 Source: BBC. Full Article: Click Here
---
New Site Ownership!
Please note: following the death of Phil Goodman, this website was handed to Calum at the beginning of 2021. Calum wishes to gently take the list offline, but extinguishing the memory of all his friends and those of the previous website admins from the past decade feels like kicking gravestones over in a churchyard.
It is Calum's hope that Dr Thérèse Coffey MP, the Secretary of State for Work and Pensions since 8th September 2019 will look at the DWP reforms and especially the controversial and allegedly flawed Work Capability Assessment and repair these to make them safe.
At that point, it would seem that some justice for those who have died and are on this list (or like several thousand deaths are not on this list).
Please forgive me, but I, like many disabled people who have been reminded of the finite nature of their lifespan due to either stroke, or heart surgery or other disabling medical condition tend to value every single week. So much so, that some of us are acutely aware of how many weeks we have lived and how many we are likely to have left.
At this end of things, life still has some things in on the Bucket List. Even with physical pain, mental distress (PTSD.
Many years ago, as an emergency service worker losing that job through spinal injury and subsequent spinal surgery it has been difficult staying away from the DWP. But I've managed it to save the DWP over £218,000 for 80% of my life that has been lived away from your organisation.
That is my covenant to you and to the taxpayer. To reduce to zero the State benefits required to keep me alive.
In reciprocation and by a fortunate dint of fate, and as a virtually unemployable person due to complex disability needs…
I have been able to create over 100 new and viable jobs throughout my lifespan.
The irony being that no forceful "nudge" was needed by ATOS.
Surely there are some constructive and positive lessons in that experience?. 
To know that we each can make a positive difference to the lives of our friends and colleagues is often enough to make it worthwhile enduring pain and discomfort getting up and ready for each day when the natural reaction is often to remain as still as possible to avoid the pain of damaged bones or broken spinal bones and discs that cause excruciating pain during movement.
Dr Coffey, I hope it is not an overly burdensome thing to ask. But as we are all on the clock and the Grim Reaper will inexorably knock on all of our doors, is it too much to ask that when we are approaching death in the way Christine McCluskey from my beloved Dundee has done…
Please can you review the current DWP Welfare System to see if there is a better way?
I know there is and can prove it ~ in a good way. If you need some constructive advice or real-world examples of how to make the welfare system better and harness the abilities that many disabled folk have, please feel free to get in touch.
Thank you from Calum.
---
.
---

(Archived Telegraph Article: Here)
---
Latest Additions To Calum's List (number 67)

Philippa Day, 27, was found collapsed at her Nottingham home beside a letter rejecting her request for an at-home benefits assessment in August 2019.
Earlier internal reviews at the DWP had established the inability to identify a vulnerable claimant as a problem: Click Here.
The assistant coroner issued a so-called Prevention of Future Death (PFD) report to the DWP and private contractor Capita, requiring them to explain what action they might take to improve. That was the fourth PFD sent to the DWP by coroners since 2013.
Full BBC Article…
Surely there is a better way?
Please help stop
Welfare Reform Deaths
Thank you.
+++++++++++++++++++++++++
---
Calum's List: Number 66.
Welfare reform deaths are a real problem. Even the official government reports reference this: click here and the official report from 6 years ago: click here.
This website respectfully asks those in authority to consider whether there is a better way?
By that we mean a way in which those who are disabled are aided back into work with more carrot than the sticks of the past decade. Thankyou.
Stephen Smith: Assessed As "Fit To Work" By The DWP: Click Here
We believe the vast majority of people are good hearted and fair. Please let them know about the DWP's own figures of 81,140 welfare reform deaths (and 10,000 more since that government report here). If you share these harrowing stories, then our 67 friends will not have died in vain because you will be helping to…
Surely there is a better way?
Please help stop
Welfare Reform Deaths
Thank you.
+++++++++++++++++++++++++
---
This front page is full of news and updates in our efforts to reduce welfare reform deaths. For the definitive Calum's List, please click on the relevant link below...
 Welfare Reform Deaths – Memorial Pages
WE KNOW A MINIMUM OF…
67
DISABLED OR VULNERABLE PEOPLE WHO HAVE DIED
Our small team here at Calum's List personally know of 66 welfare reform deaths from our friends who have ended their lives or passed away. This is because we have visited friends and/or folk themselves in hospital. The DWP and ATOS, MAXIMUS & CAPITA should be facing a Public Inquiry. Family and friends of the dead have been contacting this website between 2012 and 2019. The much larger UK figure is nearer 4,000 but could be as high as 81,140 welfare reform deaths - government stats: click here. But we have only listed those folk whose family or friends – or even themselves before they die, have gotten in touch. To try and list 4,000 peoples' deaths would kill off the small group left standing at this end of the website. There is already trauma at losing so many people, several of whom became close friends.
So our list is just 67.
Including the founder of this website…
Michael Moore.
Rest in Peace Mick.
You helped hundreds of folk with your kindness.
We really want this welfare reform death toll to stop. Please.
Consider signing our petition: click here
Original Calum's List: here
+++++++++++++++++++++++++
---
A Few Good Men & Women
There are good people that restore our faith in human decency. They make a vital difference. Below we discovered an incredibly emotional speech. The small team at Calum's List were moved beyond words. Thank goodness for women and men of genuine integrity…
Original Parliamentary Hansard Warning To The DWP – Source: Here
Since Michael Moore started this website in 2011, several of the original Calum's List subscribers have subsequently died, one of whom was in tears at this speech by John McDonnell.
---
Lethal Bedroom Tax
Source: Here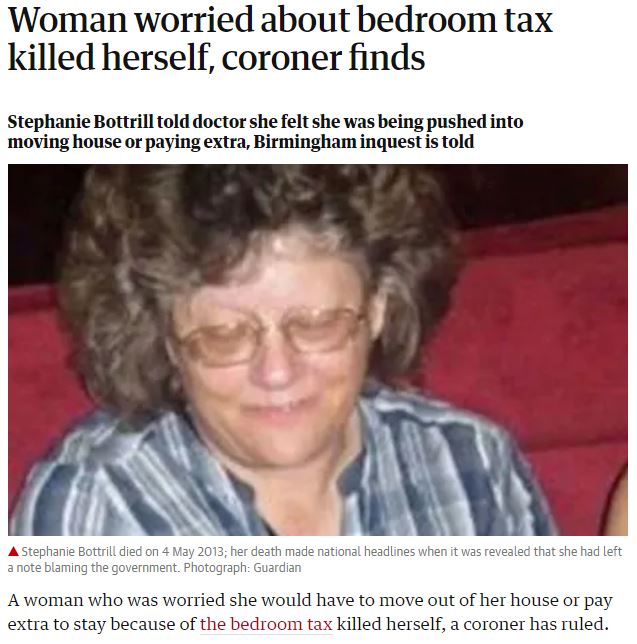 Photo Above Is Stephanie Bottrill In Happier Times. Below? Heartbreaking…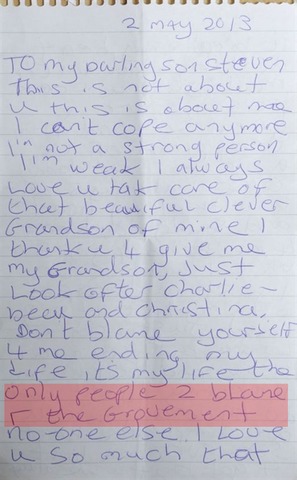 Stephanie Bottrill's Suicide Note
---
 Today, 21st July 2019 our hearts sank. We learnt of this tragedy from friends of… 
Philip Herron
Calum's List: Number 65
Please consider copying the following photo and post it onto your Facebook or Twitter account. The more we let good, honest, decent-minded folk that welfare reform deaths are a real problem and decimate families, leaving kids without a Dad or Mum, the more likely we are to stop ill people being worried to their deaths. Thankyou…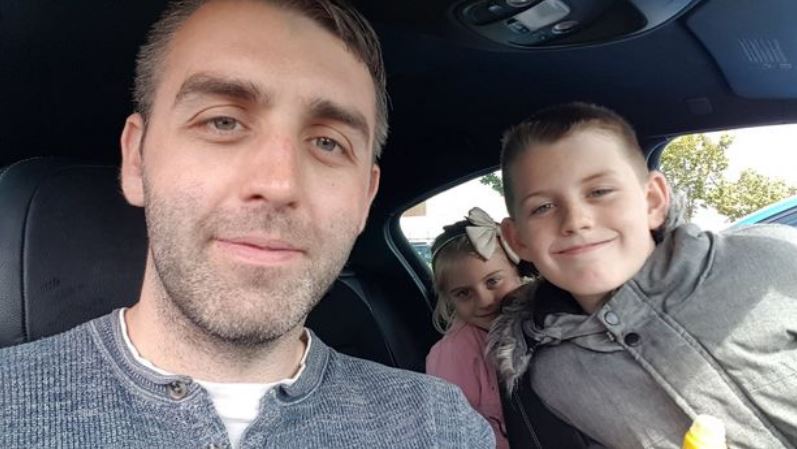 Phillip Herron. Another DWP Suicide.
The Tory Party Dismiss This As Irrelevant To Their Policies.
Young single dad of three waited weeks for no DWP Universal Credit
Phillip had just £4.61 left in his bank account when he took his own life. Phillip was just 34 years old. The DWP persist in evading any responsibility.
There are now three young children without their father.
The Department of Work & Pensions trotted out their usual cynical insincere PR spin…
"Our thoughts are with Mr Herron's family. Suicide is a very complex issue, so it would be wrong to link it solely to someone's benefit claim. 

Aye right. How about the DWP read Stephanie Bottrill's suicide note. Or maybe even their own report: here.
The truth of this tragedy has been discovered by Phillip's mum after she was able to access his mobile phone…
"Universal Credit was the final nail in his coffin, said Phillip's grieving mum Sheena Derbyshire."
At Calum's List, we believe after paying years of PAYE and National Insurance, the DWP owed Phillip Herron and his children a duty of care. Surely there should be a JUDICIAL REVIEW or some form of INDEPENDENT INQUIRY into these welfare reform deaths?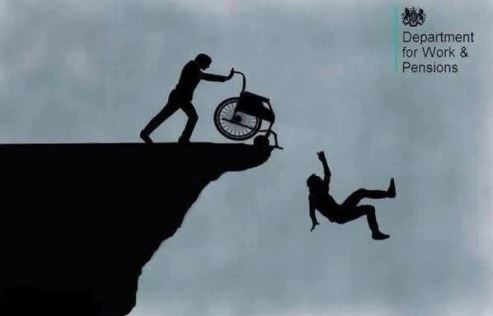 If A Bus Carrying 66 Disabled People Crashed Into The River Thames…
There Would Be A Public Outcry At 66 Deaths.
So Why Do Few People Know About All of These Welfare Reform Deaths?
Click Here For Further Details For Phillip Herron
+++++++++++++++++++++++++
---
Jodey Whiting
Number 64 on Calum's List
Died By Mistake?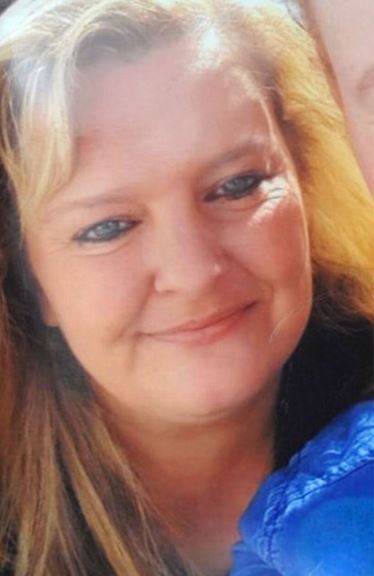 Why Is Jodey Whiting Dead?
Joy Dove, mother of Jodey Whiting was "shocked" by the extent of the failings outlined in documents from the Independent Case Examiner.
Joy says: "This was awful. There was no need. They pushed her to it" suicide.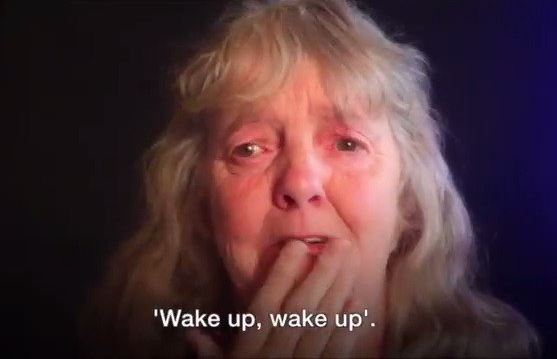 A Mum's Worst Nightmare: Her Daughter Being Found Dead. Who Is To Blame?
The examiner found the DWP did not follow procedures which should have seen it telephone and visit Ms Whiting after she missed the appointment. Jodey's mum is seeking legal advice over whether any further action is possible.
The DWP said it apologised to Ms Whiting's family for "failings in how we handled her case".
A spokeswoman added: "Our thoughts are with them at this difficult time and we are providing compensation."
What compensation? Jodey is dead and the DWP cannot bring her back £25? Maybe £50?
Readers of this can help Jodey's mum and thousands of others. You can help stop this carnage. Please consider signing the petition…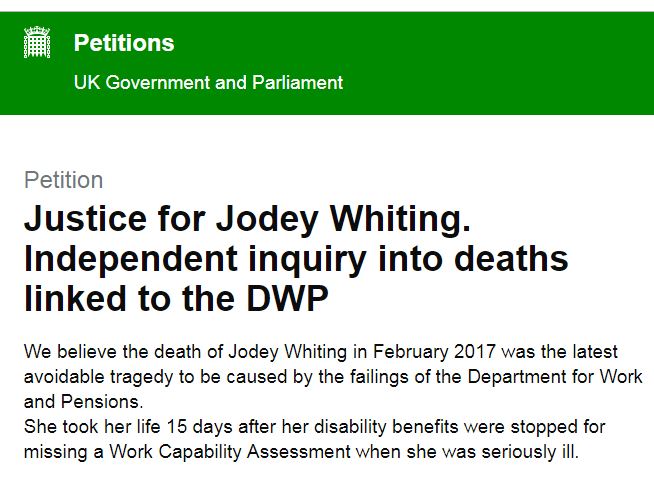 15,222 Signatures To Date
To Read & Sign This Petition Click Here
+++++++++++++++++++++++++
---
Elaine Morrall
Number 62 on Calum's List
Cause of Death? Universal Credit?
Is it now time for a PUBLIC INQUIRY? Surely someone made this lethal mess? We are certain many have failed to stop what HM Coroners have warned the Conservative government are "preventable deaths".
The Conservative government have received the Coronial Law warning on this: Click Here.
That formal warning is very important, as by ignoring a coroner's written advice that AVOIDABLE DEATHS WILL OCCUR IN THE FUTURE exposes the ministers to serious criminal proceedings at court. The legislation to which we refer carries NO exemption and NO immunity for the political and/or civil service head at the DWP – Schedule 1, Section: F9. Click Here. 
All linked indelibly to the Atosisation of UK disability payments? The result….
Elaine Morrall should NOT have died. Her death was entirely avoidable.
Manchester Evening News Coverage: Click Here.
The DWP/Politicians must surely know that the cause deaths such as that of Elaine Morrall have known Universal Credit and the whole malfunctioning Iain Duncan-Smith welfare reform mess has been lethal for years. It has been proven to by fatal ever since Stephanie Bottrill left her suicide note blaming the government welfare cuts for her death. We have HM Coroners sending the government Reports To Prevent Future Deaths and no one at the DWP or within the Conservative government listens.
+++++++++++++++++++++++++
---
Daniella Obeng
Number 63 on Calum's List
Echoes of "I Daniel Blake"…
Daniella Obeng, 32, had been living with a brain tumour and epilepsy, when she was found dead on 25 September 2017. Just about a year after the film: "I Daniel Blake" was released. Will the DWP and government ministers such as Iain Duncan Smith, Damien Green, Esther McVey ever be replaced by someone who can repair this mess.
This website does not belong to Calum. He just started a list on another website and a thoughtful person created this website. That person is now dead. So too is the IT chap that came after him. Last person standing is Calum.
Ironically Calum knows that welfare reform can work. He is dying, yet he can work and prefers to do that rather than claim benefits.
All the supporters of this website now ask, since Calum was handed the List at the beginning of 2021 is PLEASE can the Secretary of State at the DWP make Welfare Reform FAIR. Thank you.
If the dubious Atos systems and dreadfully inhumane Work Capability Assessments are sorted out, then people with disabilities will work if they genuinely can. 
Click Here For The News Report For Daniella Obeng
++++++++++++++++++++++++++
---
Lawrence Bond
Number 64 on Calum's List
More Echoes of "I Daniel Blake" (here)…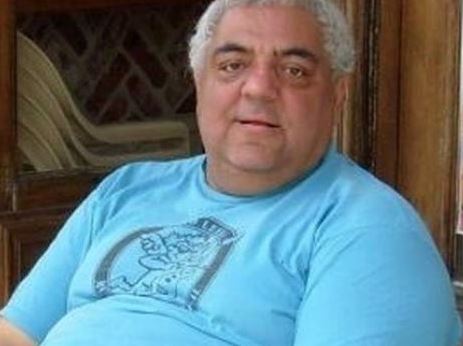 Lawrence Bond – Rest In Peace.
---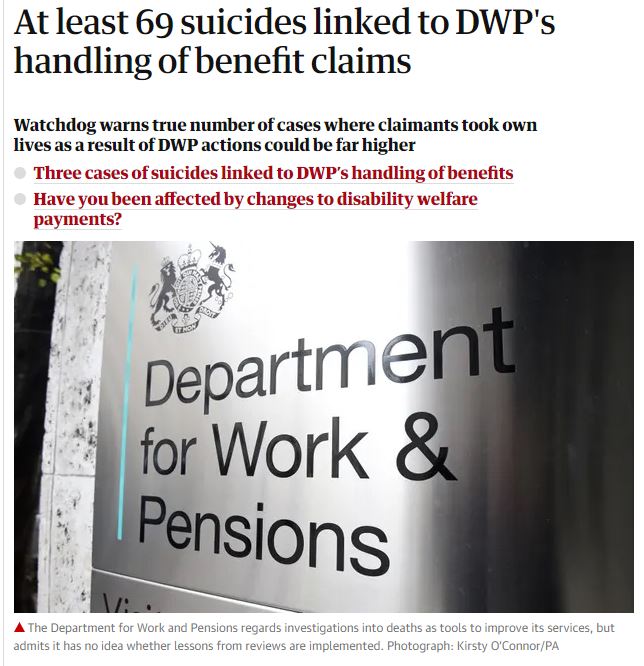 Click Here To Read This Article.
---
Original Calum's List >>>
.